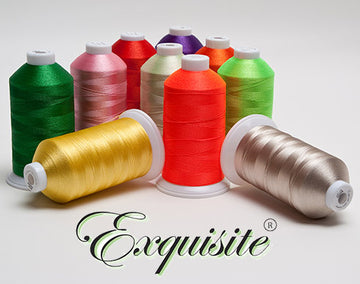 Exquisite Polyester Thread
The Exquisite brand polyester embroidery thread provides the same brilliant sheen as rayon. The Exquisite poly threads are colorfast and withstand fading from ultraviolet rays and damage from industrial laundering. A 40 weight, 120/2 denier thread, Exquisite is available in 100+ colors on 5,000 meter cones.
KingStar Polyester
Durable, Strong, Affordable! Providing the same brilliant sheen as rayon, KingStar is an attractive alternative at a more affordable price. KingStar is colorfast and withstands fading from ultraviolet lighting. An all-purpose thread, especially ideal items which must endure harsh laundering. Over 350 colors available on 2,000 or 5,000 meter cones.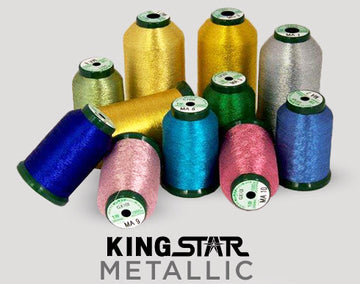 KingStar Metallic
These luminescent metallic embroidery threads have a polyester core and are wrapped in rice paper with a metallic finish. The high-quality thread doesn't "kink" up as it unwinds from the spool and runs smoothly through the thread pre-tensioners. 16 colors available on 1,000 meter cones. Select colors also available on 3,000 meter cones.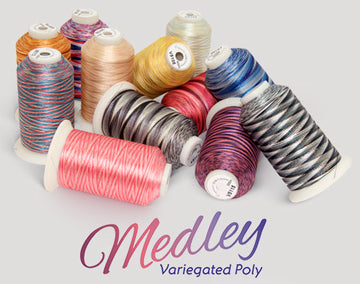 Medley Variegated by Exquisite
Each Medley spool is a precision-dyed blend of three to four colors that repeat at regular intervals. Create realistic blended fills or make fun personalization's with this rich, dimensional 40 weight thread. Suited for sewing, quilting and machine embroidery. Available in 15 colors on 5,000 meter cones.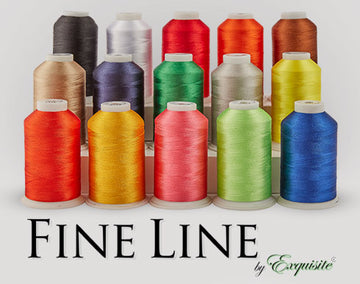 Fine Line 60 wt by Exquisite
A super-lightweight polyester thread designed to eliminate bulk and create crisp details and clear, readable embroidered text as small as 1/4″ or less in height. Enjoy the same high-quality stitching results as our 40 wt. poly in a lighter weight for small design elements. Available in 15 colors in 5,000 meter cones.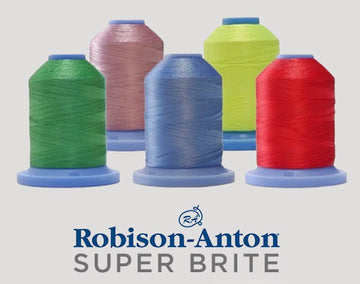 Robison-Anton Super Brite
High tenacity, super bright trilobal polyester thread. Super Brite has brilliant colors with a durable, high sheen stitch appearance and provides a superior sewability and stitch formation with fewer thread breaks. Super Brite is colorfast and very versatile making it useful for all embroidery applications. Over 450 colors available on 5,000 meter cones.